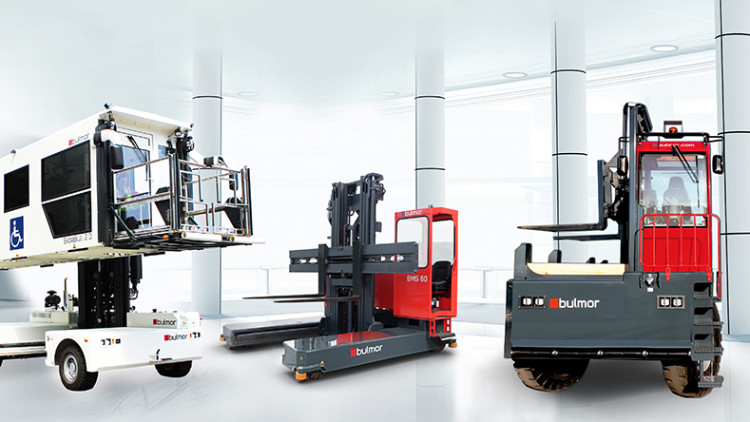 Buying mobile machines is no longer just about high quality or individual machine functions. Today, buyers of premium machines also expect a comprehensive digital offering with a corresponding gain in efficiency. On the other hand, machine manufacturers secure their competitiveness with their own offering and often even reduce their service costs. The example of Bulmor and TTControl shows that this type of solution does not necessarily require a great deal of effort or investment.
The Austrian multi-way side loader manufacturer Bulmor was looking for a telematics solution that could be used immediately without any additional technical effort. This was desired via simple integration, without additional programming performance or highly qualified personnel.
"Self-Diagnostic" – machine analysis and diagnosis
"Our goal was to create a machine that independently detects problems, malfunctions and alerts users when maintenance is due," says Thomas Jakowiak, CEO of Bulmor. "This information would then be sent to both our technician and the customer automatically regardless of location."
The keyword is "self-diagnostics". The machine's telemetry data and status changes from the cloud should be able to be actively transmitted by the machine at any time. Another requirement of Bulmor was to be able to install product improvements over-the-air on machines already in the field. This should help to significantly reduce service costs to customers and machine manufacturers for service technicians. In addition, the machine should be even more "readable" or assessment friendly via the connection to the cloud in order to continue to improve machines being used by customers.
Comprehensive digital offering for machine users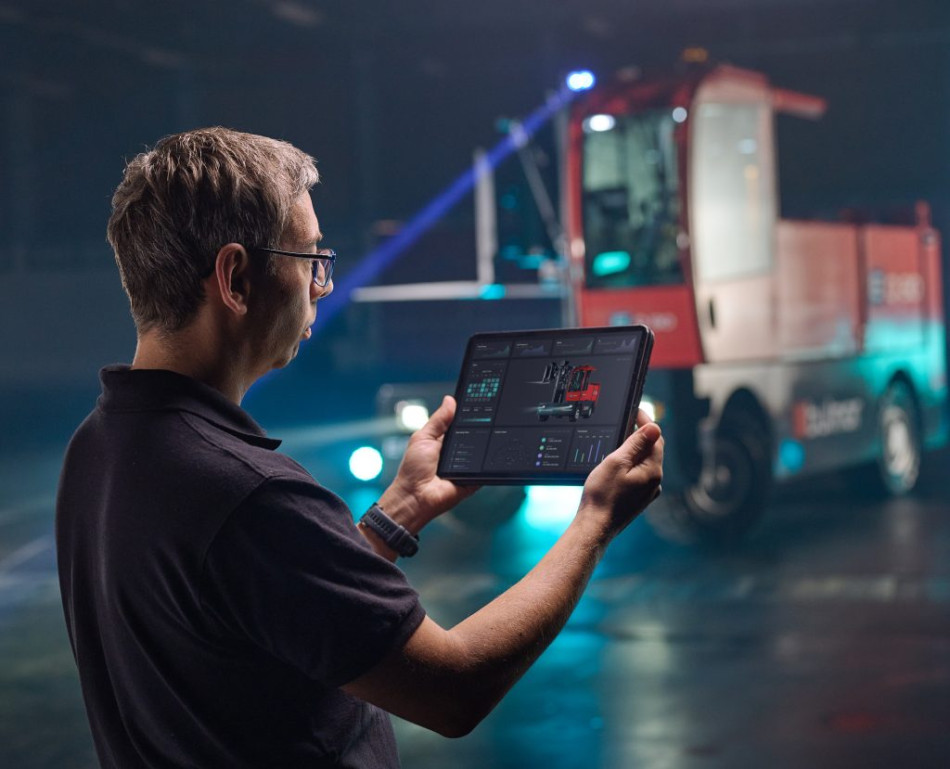 "Our constant communication with mobile machine and off-highway manufacturers keeps us well abreast of current market trends," says Valentin Ecker, IoT Product Manager at TTControl. "This is why we were able to offer Bulmor an extended range of services in good faith, which offers great added value both to its customers and to the company itself."
"Together with our technology partner TTControl, we decided not only to set up a remote maintenance system for Bulmor machines, but also to create a digital offer for machine users for our customers," says Peter Schweitzer, Technical Manager at Bulmor. "We quickly decided on the TTConnect Cloud Services turnkey solution."
The TTConnect Cloud Service Management platform can be integrated via a plug-and-play feature and offers many advantages to machine manufacturer customers. This means that vehicles and fleets can be monitored with little effort. Because of the high level of integration of the robust TTConnect Wave telematic gateway, TTConnect Cloud Service enables full machine management beyond traditional device monitoring.
The hurdles on the way to connection to the cloud were overcome jointly by the companies. One of the challenges was the advanced architecture of the machine; another was the extremely challenging timeline. Communication via Ethernet was necessary in addition to communication within the machine from the telematics module to the ECU and display via CAN. This was planned into the current development timeline in close coordination with further customer requirements well ahead of time.
Simple integration despite a complex vehicle architecture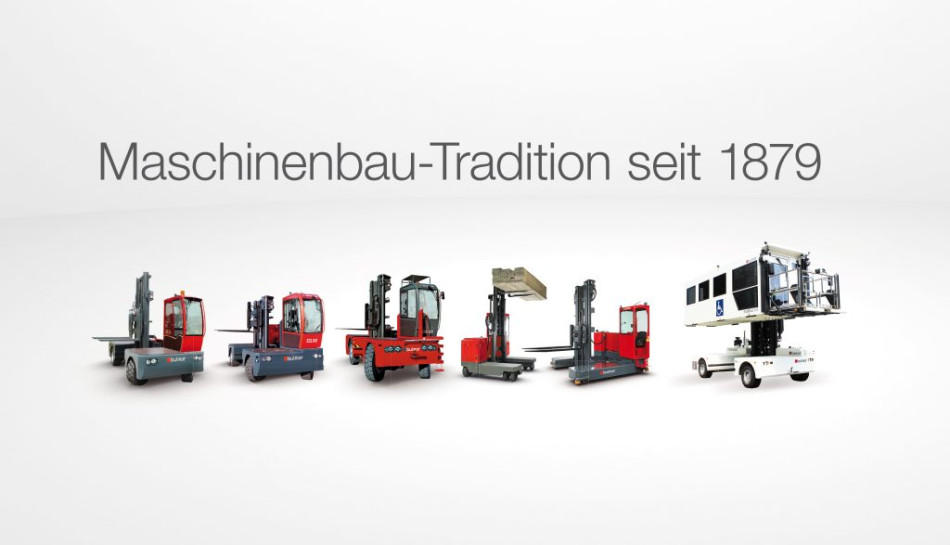 "Our experience with highly complex vehicle structures helped in developing a suitable solution for Bulmor on time," says Valentin Ecker, IoT Product Manager at TTControl. "Through intensive exchanges of information with the Bulmor team during the development process, we were able to assimilate additional customer requirements at an early stage and incorporate them into the development planning. It was a major technical challenge to implement the desired functionality set quickly and safely."
At Bulmor's request, TTControl developed a special CODESYS VPN feature as part of the telematics solution. This allows remote access to the CODESYS software display as well as to the ECU data. Meaning that even complex programming work can now be carried out regardless of location, without a developer having to travel the often long distances to the customer. This helps to significantly reduce the high time expenditure and travel costs. The specially developed CODESYS software feature is now also available to customers from other segments. 
"Immediate and uncomplicated communication with TTControl's development team regarding hardware and applications has promoted rapid development," says Peter Schweitzer, Technical Manager at Bulmor. "The ongoing exchange has helped to co-opt changing or new requirements and thus avoid undesirable developments."
Self-diagnosis included
The self-diagnosis function allows Bulmor technicians to inspect the machine digitally before the first service appointment. This means that they have the right spare parts at hand at the appointment time and get the machine back on the market more quickly. This not only saves the customer maintenance costs, but also significantly increases the operating time of the machines.
Because of the automated notifications, customers no longer have to worry about regular services, as the machine will automatically submit a report at the set time, well ahead of the next upcoming service period. A retroactive analysis of the machine can be carried out in the long-term using stored machine data.
Functions can be activated retrospectively
The new technology is called "myBulmor". The digital offering allows customers to keep an eye on their machines at all times, regardless of location and in real time via GPS. Machines can be navigated via a fleet management tool and automatically inform users of location changes. This not only protects against theft but is also useful for coordinating the machines on company premises. Sensors can measure impacts and actively inform fleet managers. Additional features and individual customer requirements can be implemented on the myBulmor technology in the future.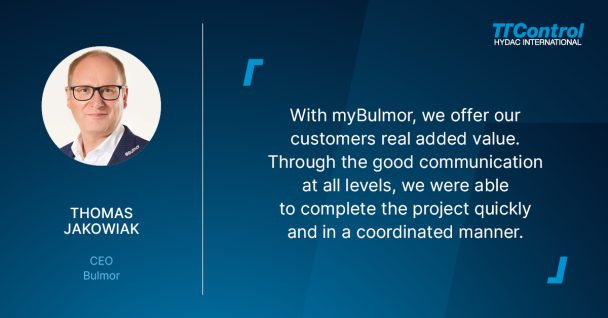 Data protection is a top priority at myBulmor. For example, access rights can be assigned in a targeted manner in order to protect machine-related data from unwanted or unauthorized access.
Customers also have the freedom to decide whether and which functions of myBulmor they want to activate: the hardware is installed as standard in the series of premium machines from Bulmor and can be subsequently activated at any time. This means that customers have full flexibility and always retain control of the system.
Cloud Integration Task Force
"Similar to projects involving our ECU and HMI data, we have provided Bulmor with its own development support team for integration into our cloud solution," says Valentin Ecker, IoT Product Manager at TTControl. "This allowed us to fine-tune the otherwise turnkey solution and specifically respond to specific customer requirements. The individual presentation in the cloud, adapted to the corporate identity of Bulmor, guarantees an optimal representation of the in-house brand under myBulmor."
"With myBulmor, we offer our customers real added value," says Thomas Jakowiak, CEO of Bulmor. "Through the use of good communication at all levels, we were able to complete the project quickly in a coordinated manner."
"We were able to focus on the essentials in our development performance. Although we worked with an external team, thanks to the direct communication, we did not lose unnecessary time in communication loops and the result is a product that meets the highest standards in both hardware and application development."
Related links:
Bulmor's EQ 80 electric sideloader: https://www.bulmor.com/en/sideloader/electric-sideloader