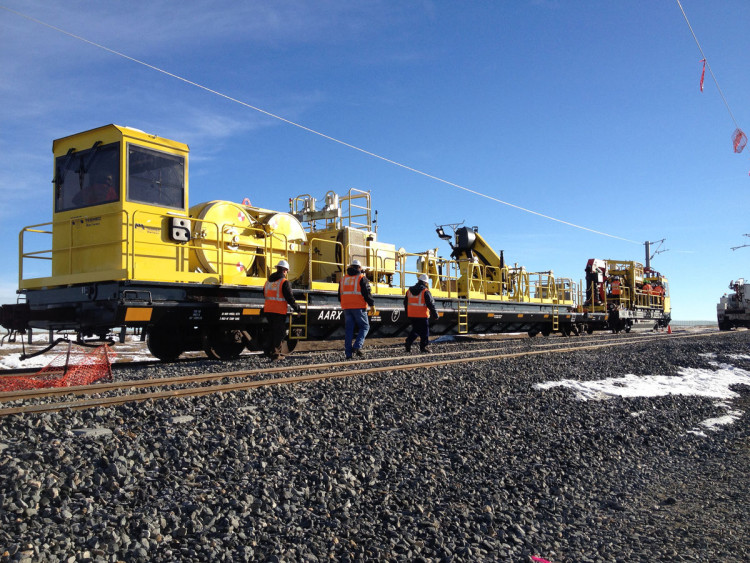 September 16, 2014
TTControl, a joint-venture company of TTTech and HYDAC International, specializing in robust and flexible control systems and intelligent displays for mobile working machines, has been selected by Tesmec to develop the control and monitoring system for a new generation of their railway catenary installation equipment. TTControl acts as a technology partner for both, the constant tension stringing unit and the catenary maintenance diagnostic unit.
Italy-based company Tesmec is an expert for products and integrated solutions in the area of construction, maintenance and efficiency of infrastructures related to the transportation and delivery of energy, data and material. As a full-range supplier for mobile controls and HMIs, TTControl was able to meet Tesmec's specific requirements for their new generation of railway lines electrification machines.
Regarding the constant tension stringing unit, four TTControl HY-TTC 60 ECUs and a HY-eVision² 10.4'' operator interface made it possible to control all functions with a single HMI on the machine. Key features of the interface are the setting and supervision of working conditions, e.g. machine cycles, visualization log, graphics and text as well as advanced diagnostics like an error log, system maintenance, an interactive hydraulic scheme and user manuals. Integration and management of all different functions of the catenary maintenance diagnostic unit were possible by using TTControl's 7" rugged operator interface together with the safety ECU HY-TTC 94 and four HY-TTC 48X I/O modules. System simplification, communication and synchronization between the stringing unit and the maintenance unit and advanced diagnostics were named by TTControl and Tesmec as the main advantages for developers during production and testing as well as end users during operation and maintenance of the machine.
"For the development of our new catenary installation machine, Tesmec aimed to combine high performance, modular structure and practical usability. We have achieved this target and now we are able to transfer these benefits to our customers," explains Ing. Alberto Oscar, Technical Director Stringing Division at Tesmec.
"The control logic of stringing machines and railway equipment requires flexible solutions. It was a fascinating opportunity for us to equip these machines with our high-performance control platform and supervision systems," says Marc Weissengruber, Director Sales & Marketing at TTControl.