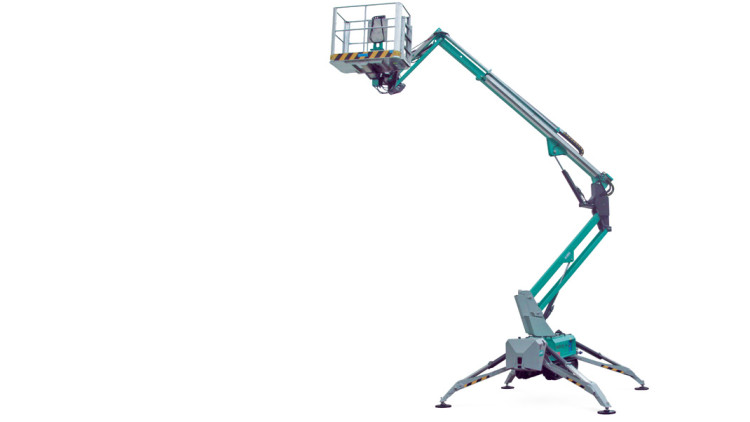 TTControl, a joint-venture company of TTTech and HYDAC International specializing in robust and flexible control systems and intelligent displays for mobile working machines and special vehicles, has been selected by IMER Access, a leading manufacturer of access platforms, as electronic supplier for their next generation of self-propelled crawler aerial working platforms. The IM R13, IM R15 as well as IM R19 platforms of IMER will be equipped with EN ISO 13849 PL d certified electronic control units by TTControl.
IMER Group is a leading producer of construction equipment, mortar spraying and conveying machinery, plant and equipment for batching, transporting and casting concrete in-site and specializing in earth-moving machinery and lifting equipment. IMER Access, created after the acquisition of the business unit ITECO by IMER Group in September 2009, focusses on designing and building aerial work platforms of various types: self-propelled scissor lifts, for indoor and outdoor use, self-propelled articulated boom lifts, truck mounted aerial platforms, and now also the new range of crawler access platforms.
In 2012 IMER developed for the first time internally a prototype of a self-propelled crawler aerial working platform and chose TTControl as electronic supplier for their electronic safety platform during this major step. TTControl provided HY-TTC 90, a robust control unit compliant with the international IEC 61508 and EN ISO 13849 standards on functional safety. This control unit meets all safety requirements of the platforms and fulfills SIL 2 (Safety Integrity Level) and PL d (Performance Level) requirements, and serves as a master ECU in the platform, interfacing with the engine controller and the remote radio control. TTControl further supplied IMER with the I/O slave HY-TTC 48X, a smart and cost-effective I/O slave module connected over CANopen to the master unit.
"We are pleased to win IMER Access as a partner for our solutions and to be part of the development of a new line of self-propelled crawler aerial working platforms, contributing to their electronic safety with our products. We are looking forward to further deepen our partnership in the future," states Roberto Ferrari, Director Services and Operations at TTControl. TTControl specifically developed the applications based on the principle that IMER will be autonomously able to modify, customize and enhance them as well as bring it to new larger or smaller aerial platforms, enabling a concept for future platforms.
"With the collaboration of TTControl we have been able to realize the new electronic concept for our new self-propelled areal platform product line, satisfying the new legal requirements from EN ISO 13849 regarding electronic control units and application software," states Mr. Roberto Arioli, Technical Manager at IMER Access. The production of the crawler aerial working platforms started earlier in 2013.