December 18, 2006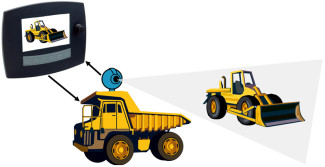 TTControl – TTTech Off-Highway, a supplier of electronic control systems for off-highway vehicles, designed an innovative camera vision system. This visual operator interface allows machine operators to better keep their work environment in view, thereby increasing safety and productivity at work. Equipped with an LCD module and up to three cameras, the camera vision system is controlled by Vision, TTControl's powerful visualization unit.
Bad or limited view is one of the most frequent causes for accidents at construction sites. Operators with no or little vision reverse their machines and run down vehicles or workers. This often leads to damages to property and persons with tremendous downtimes in their wake. TTControl's innovative camera vision system is designed to avoid such dangerous situations.
This visual operator interface consists of a digital LCD module, a visualization unit and up to three analog PAL cameras. The cameras are designed for outdoor use, have an internal heater and are supplied by the video adapter card. The LCD module provides adaptable illumination for changing light conditions and comes with a 6.5", 7" or 10" color display. Other LCD display models are supported at customer request.
At the heart of TTControl's camera vision system is Vision. This visualization unit controls the views of the cameras and displays the machine parameters. Integrating the camera vision system with the vehicle application in a single LCD display is an enormous advantage, reducing production costs and increasing operating safety.
The Vision is originally designed for use in vehicles and machines that run in harsh environments and at extreme operating temperatures. Its robust injection-molded aluminum housing protects against electromagnetic disturbance and mechanical stress. Vision can connect with both CAN and TTP® (Time-Triggered Protocol) networks.
The Vision provides both a Low Voltage Differential Signaling interface (LVDS) and a PAL/NTSC interface. The user can interact with the control unit in three ways: by keyboard, by encoder, or by touch panel.