The ideal choice for advanced electronic architectures
The TTC 2300 family is the first member of the TTC 2000 Series: A complete and scalable series of controllers designed to meet the needs of upcoming highly automated and smart off-highway vehicles and mobile machines.
High processing power, high-speed connectivity and large memory make the robust electronic control units (ECU) the ideal choice for advanced electronic architectures and for future automation and assistance systems. The ECUs are designed for use in rugged operating environments and operate under harsh conditions and extreme temperatures.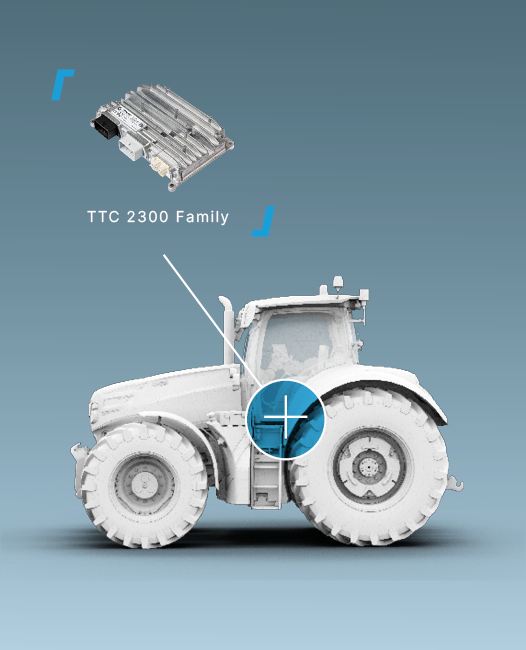 High performance for future mobile machines
Innovative features in off-highway machines are leading to an increase of the amount of data to be processed and stored. Therefore, the TTC 2300 family is equipped with large internal and external memory that can be managed by a user-friendly file system. Infineon's latest high-performance CPU, the second-generation AurixTM TriCoreTM, provides the right computing power, ready for future mobile machines.
Flexibility and connectivity for advanced machine functions and assistance systems are ensured by an extensive set of inputs and outputs (I/O) and various interfaces like CAN and Ethernet. The highly flexible I/Os make the controllers the perfect, cost-effective solution for a wide range of applications. The inputs can be configured for various sensor types and the outputs can be used to control hydraulic valves, electric motors, lamps or LEDs.
The ECU collects data from analog, digital and smart sensors and can communicate via 100Mbit/s Ethernet fast and efficiently with other components in the vehicle; for example, with a telematics gateway to upload the collected data to the cloud.
Safety-certified by TÜV Nord
Mobile machine operators expect maximum functional safety at the job. The TTC 2300 family variants are safety-certified by TÜV Nord for an extended set of functional safety standards. This increases safety and helps to reduce the overall cost of certifying vehicles such as agricultural or construction machinery.
Software reuse and faster development cycles
The safety-certified, real-time operating system PXROS is part of the software stack delivered with the TTC 2300. It enables full use of the AurixTM multicore architecture. Tasks can be freely distributed to the different CPU cores. The operating system ensures freedom from interference of safety-related and non-safety-related code when executed on the same CPU, which significantly reduces developmental efforts. HYDAC's powerful toolchain MATCH is optionally available and offers additional field testing and service functionality.
The right controllers for electric vehicles
Electrification is a rapidly growing trend that will affect entire industries. The H-Bridge functionality, available in the TTC 2300 product family, efficiently controls various electric motors available for use in off-highway machines. This not only improves the precision of the machine, but also leads to an increasing number of electrified machine functions for more sustainable mobile machines.
The TTC 2300 family helps introduce innovative, safety-related features, reduces the cost of vehicle testing and validation, and helps machine manufacturers stay on the cutting edge of modern mobile machine architectures.
Technological advantages
TTControl's new TTC 2300 ECUs are equipped with the second generation of the high performance AurixTM TriCoreTM CPU. With up to six cores, each running at 300 MHz, the TTC 2300 family is the right choice for future mobile machinery. To fulfill the highest security standards, the CPU is equipped with a dedicated Hardware Security Module.
The large memory makes the TTC 2300 family variants ready for numerous off-highway use cases, such as storing the ISOBUS object pool of an agricultural implement or the load moment tables of a mobile crane. The TTC 2300 family supports advanced data configuration, logging and storing. It comes with up to 6.47 MB internal SRAM and 16 MB internal Flash as well as an external Flash memory of up to 32 MB. In addition, it is also equipped with EEPROM or FRAM memory extensions.
In addition to the Flash option, the controller family supports efficient memory management and data transfer with a user-friendly file system available for all TTC 2300 ECU variants.
The TTC 2300 variants are equipped with up to 60 inputs and outputs (I/O). The I/Os are highly configurable and can be flexibly configured for different types of sensors and actuators, which helps to save time and development costs. Analog and digital timer inputs, both high-side and low-side PWM outputs, as well as PVG control outputs, make the TTC 2300 ECUs the perfect match for a variety of applications.
The controllers are designed for a total load current of up to 45A and high inrush currents.
More automation and assistance systems go hand-in-hand with an increasing number of sensors, and these sensors are getting smarter. The TTC 2300's modern communication interfaces address the requirements of electronic architectures in tomorrow's smart mobile machinery. The TTC 2300 ECU product family has four CAN-FD interfaces with up to two Mbit/s. One CAN channel can be used as wake-up source.
In cases of agricultural use,  an ISOBUS compliant CAN bus is available. In addition, the control units are equipped with two high-speed data (HSD) connectors for Ethernet and BroadR-Reach communication. These provide the necessary bandwidth for the increasing number of sensor and actuator data on mobile machinery. Up to four SENT interfaces, including the Short PWM Code (SPC) enhancement, are available.
TÜV Nord safety certified the TTC 2300 family for an extended set of functional safety standards, helping to reduce overall vehicle certification costs: AgPL d for agricultural machinery (ISO 25119); MPL d for earth-moving machinery (ISO 19014); ASIL C for cars, trucks, and buses (ISO 26262); as well as SIL 2 and PL d for machinery (IEC 61508 / EN ISO 13849).
The mixed criticality concept allows both safety-related and non-safety-related code to be executed on the same CPU without reducing the overall safety level (freedom from interference), which helps to significantly reduce time–to-market.
The TTC 2300 product family is delivered with the safety-certified, real-time operating system PXROS. It enables full use of the AurixTM multicore architecture by freely distributing tasks to the different CPU cores. The ECUs can either be programmed in a C/C++ or with CODESYS Safety SIL 2, including support for CANopen Safety Master.
The powerful MATCH toolchain by HYDAC is optionally available and provides enhanced functionality for testing and service in the field.
The TTC 2300 electronic control family answers the rapidly growing industry trend of electrification. For the TTC 2300 family, the possibility of controlling electric motors was considered from the start. The H-Bridge interface supports frequencies up to 1 kHz and currents up to 4A.