Cost-effective and high-performance solution
The TTC 50 family includes the electronic control units TTC 60 and TTC 94, as well as the I/O modules TTC 36X, TTC 48X and the safety certified I/O module TTC 48XS.
These cost-effective, high-performance electronic control units are targeted towards applications that need to function reliably under harsh environmental conditions. The electronic circuits are well protected by a compact, automotive-style aluminum pressure die-cast housing. In more demanding applications, several electronic control units can be interconnected via CAN® bus to form a network. The units are programmed either in C or in CODESYS®.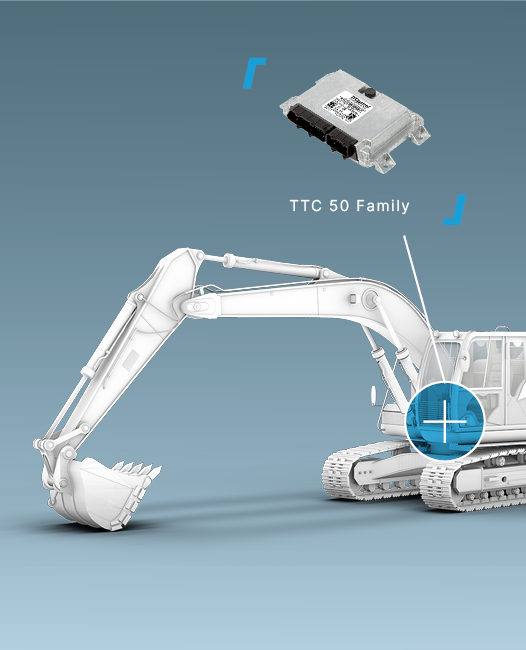 TTC 94
TTC 94 is a top-level electronic control unit of the TTC 50 family, offering enhanced flexibility and safety. It is designed to comply with the ISO/EN 13849 international standard. It comprises a main CPU for executing the user application and a smaller diagnostic CPU, which continuously monitors the main CPU and the safety-critical inputs and outputs. In case an error is detected, an internal switch opens, disconnecting all output stages from power supply and shifting the vehicle to a safe state. These safety features prevent uncommanded movements of the vehicle and equipment, thereby ensuring safe working conditions for users. TTC 94 fulfills PL d (Performance Level d) requirements (for C-Programming environment only).
In many applications there is a growing demand for data transmission inside the vehicle network. On big and complex machines several CAN busses are being used for the various systems. To meet this demand TTC 94 is equipped with 4 CAN channels.
TTC 60
TTC 60 is a powerful electronic control solution for off-highway industries that is well-suited for the rough conditions in which it is used. Its automotive-style housing withstands extreme conditions such as humidity, vibrations, temperature changes and mechanical load.
Furthermore, the TTC 60 has the "International Protection Rating" IP 67 according to the international standard IEC 60529. The TTC 60 has 512 kB external RAM and eight analog inputs that can be configured for different voltages in the range of 0-30V. A daughter board makes it possible to add customer specific resources.